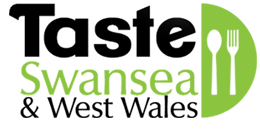 I'm sure it won't have escaped your notice that the Taste Swansea logo has changed somewhat on this new website. Of course it's deliberate as we intend to slowly roll out the magazine further afield to take in West Wales, and the catchment area will also extend a little more north, with Hay-on-Wye being the invisible boundary. But before parochial readers become upset regarding the need to retain both Swansea and West Wales in the logo title, there are good commercial reasons why this is the case. This is why we made the changes in the way we did...
For those of you who have followed the magazine since its inception in 2015, you will understand that the brand Taste Swansea has always been supported by an active website. The website tasteswansea.com has therefore three years worth of search engine optimisation, and by merely changing the title of the url/domain we stand to lose all the traction that those three years have built-up. As the owner of the magazine, I'm not prepared to do that regardless of the circumstances.
Secondly, some readers will suggest that we develop two separate titles, i.e. Taste Swansea and Taste West Wales. That sounds eminently sensible, until you research the financial and practical implications of running two printed magazines at the same time in two locations. Taste Swansea has until now consisted of approx 32 pages and there is scope to increase the page content - indeed to almost double in size. It also has a core of advertisers whom have helped support the growth of the magazine, and to launch a new title means that we'd need to find another large group of entirely new advertisers to support the magazine from day one. By merging the two locations as we are doing however, we only have to find a small number of West Wales based advertisers to make the larger magazine more financially viable. 
Third and finally, if you are a smart business owner in either of the Swansea or West Wales catchment areas you will understand that our approach to bringing a 'joint food and drink magazine' to both areas can assist in bringing new customers to your door. If you are just a reader then of course you'll discover new and exciting food establishments and initiatives in the respective catchment areas. From experience, I know that people travel for good food. Foodies especially go to great lengths to sample new fare almost regardless of where it may be, and if you are smart, then this could be your opportunity as a food business owner to reach a wider audience and showcase what you can offer! Why miss the opportunity and only promote locally to those who know your business already exists?
Bon appétit...