New Branding for Taste Swansea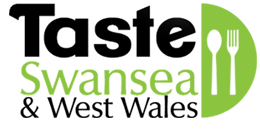 I'm sure it won't have escaped your notice that the Taste Swansea logo has changed somewhat on this new website. Of course it's deliberate as we intend to slowly roll out the magazine further afield to take in West Wales, and the catchment area will also extend a little more north, with Hay-on-Wye being the invisible boundary. But before parochial readers become upset regarding the need to retain both Swansea and West Wales in the logo title, there are good commercial reasons why this is the case. This is why we made the changes in the way we did...
For those of you who have followed the magazine since its inception in 2015, you will understand that the brand Taste Swansea has always been supported by an active website. The website tasteswansea.com has therefore three years worth of search engine optimisation, and by merely changing the title of the url/domain we stand to lose all the traction that those three years have built-up. As the owner of the magazine, I'm not prepared to do that regardless of the circumstances.